Healing the Dream Body
The body is like a wonderful flute.
And we are here to let the great spirit come singing through us, each with our own wonderful song. No two flutes alike. There may be a limited amount of notes, yet as composers have demonstrated from the inception of their art, the beginning of time, those notes can come together in an infinite number of ways. Just like people, the wood, the stone, even the plastic of the flute can come from so many different places on the earth. Eastern Cedar is not the same as western Cedar. Walnut has a different resonance than birch. You will get more resonance from a wood flute than a stone flute. It's best not to be too hard. Softwoods have the most resonance. As people, it is better to be soft with a strong resonance so that our song can travel past the limitations of who we think we are and ripple through the world. We harden to protect ourselves. It can start in the mind with a thought or belief and then it finds its way into the body. And so this wondrous instrument known as body is a doorway to the soul. This Healing the Dreambody is about softening to the forgotten sacred within us that we have come to fear. We fear our own feelings, our own music. We seem to harden to the world, but this hardening is to our most intimate and deep pain. But like a deep spring freed to water, the hardened earth pain becomes life-giving rain perhaps as a flow of tears down the hill of our cheeks.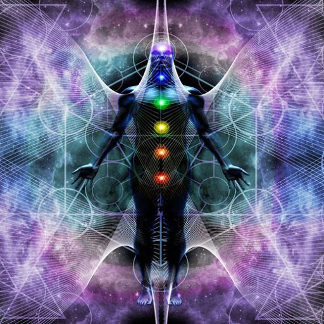 The holes of the flute are centers in the body that get gummed up with old trauma and pain.
We get out of harmony and our song seems to leave us. Or the channel through which the spirit of one moves gets tied in a series of knots that becomes a pattern of protection. These knots are woven from the fabric of thoughts/beliefs and the elemental substance of emotions. The Dream body session is an untying of these knots so the beauty of our song sings forth. When your soul's song can fly like an uncaged bird you become the sky and there is only the song of creation.